For your accommodation, the cottage offers 4 spacious rooms with every comfort.
"Art Muse", art deco bedroom
The "Art Muse" room for 2 people has an adjoining bathroom. The art deco trend invites itself into this elegant bedroom. The dark shades are awakened by golden ornaments that highlight the delicate patterns framing the fireplace. The bedroom is enveloped in a soft and warm atmosphere.
Number of beds: 1 bed
Dimension: 160 x 200 cm
Type of bedding: Simons pocket springs
Room size: 16 m2
Ensuite bathroom with shower. Separate WC
Surface of the bathroom: 5m2
"Jungle Art", double room with a retro atmosphere
The "Jungle Art" room for 2 people enjoys a retro and vegetal atmosphere full of sweetness. The shades of green soothe tensions and provide an environment conducive to rest.
Number of beds: 2 beds
Dimension: 180×200 or 2x90x200
Type of bedding : Simons pocket spring
Room size: 14 m2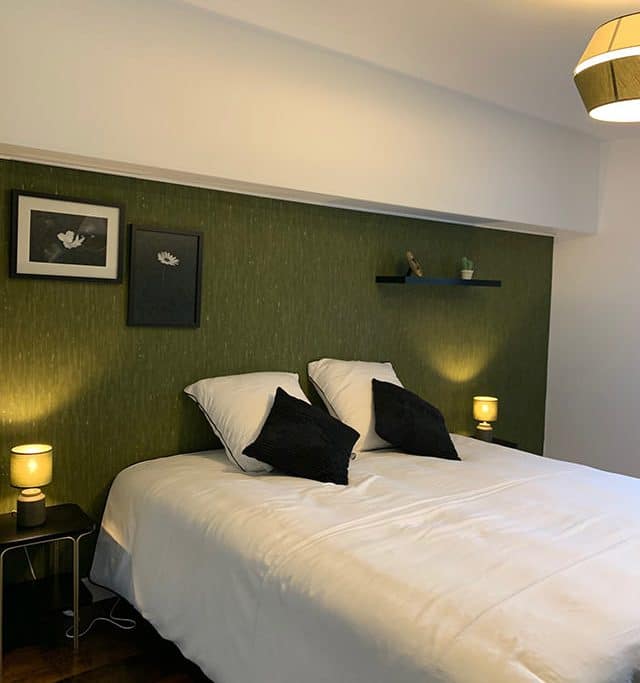 "Art de Vivre", cozy and sparkling room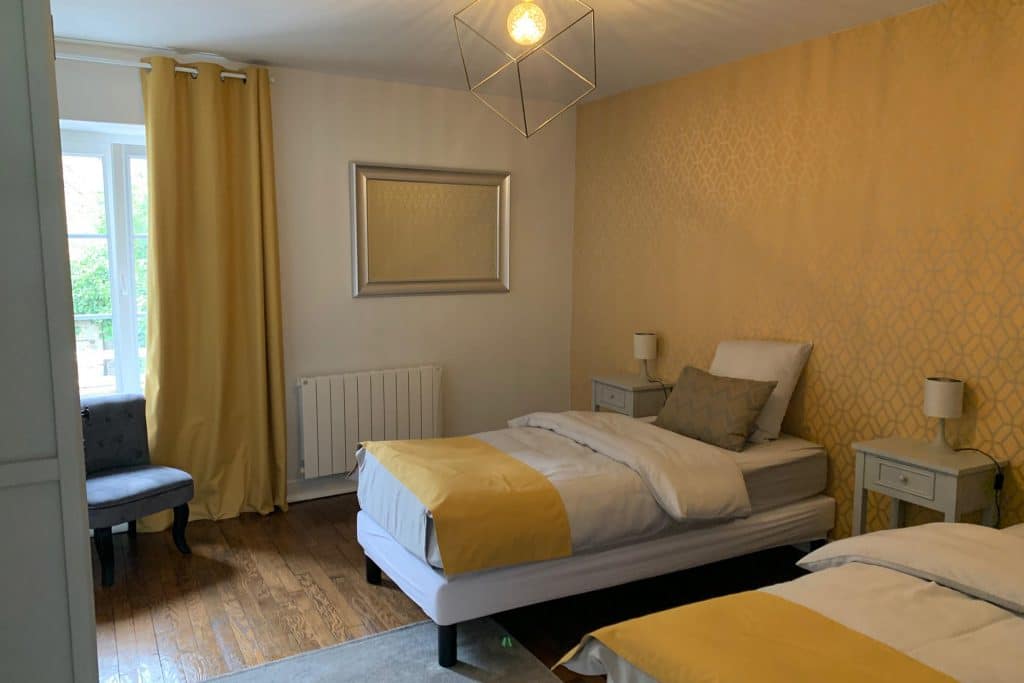 The "Art de vivre" room for 2 people is a hymn to the art of living in Champagne. The headboard with "mustard" notes reveals a chic side with golden ornaments and delicate patterns. The atmosphere is both cozy and sparkling.
Number of beds: 2 beds
Dimension: 180×200 or 2x90x200
Type of bedding : Simons pocket spring
Room size: 14 m2
"Slow Art", flowery and refined room
The "Slow Art" room for 2/4 people offers a spring and refreshing atmosphere. The floral wallpaper at the head of the bed gives it a refined and sophisticated feel. The bedroom and the bathroom come together to offer a real bathroom with a large 140×90 cm shower and a separate basin. A dressing room is available in the bedroom as well as a TV lounge with 12m2 sofa bed
Number of beds: 1 bed
Dimension: 160 x 200 cm
Type of bedding : Simons pocket spring
Room size: 25 m2
Independent bathroom upstairs of 4 m2 with shower
Separate WC
Services
non-smoking rooms: all
Free Wi-Fi: yes
Cot: 2
Hair dryer: 3
Electric towel dryer: 3
Flat screen TV 2
Smart TV Netflix